Meet the Team
Installing and Maintaining Gardens in North and Northeast Portland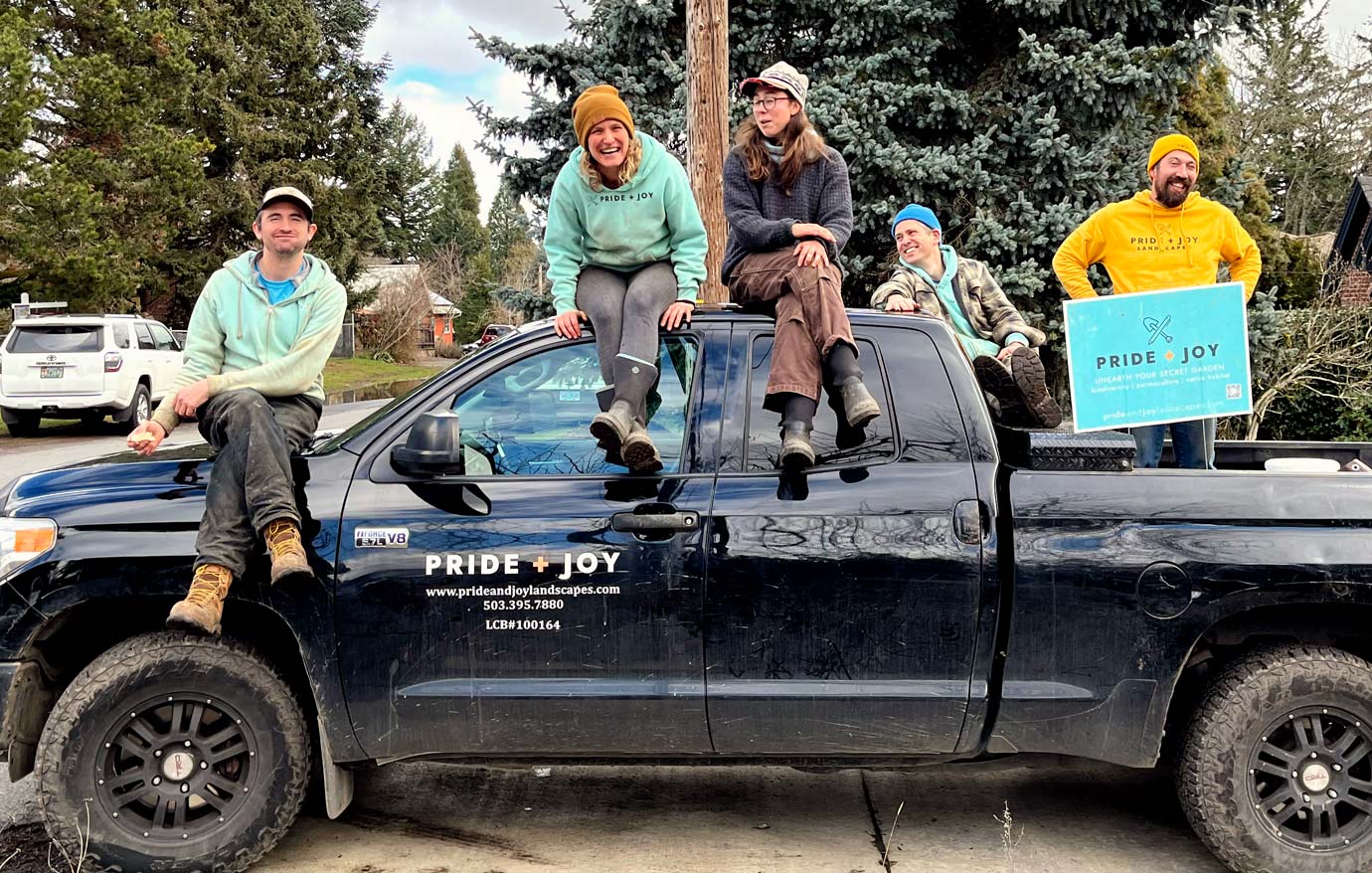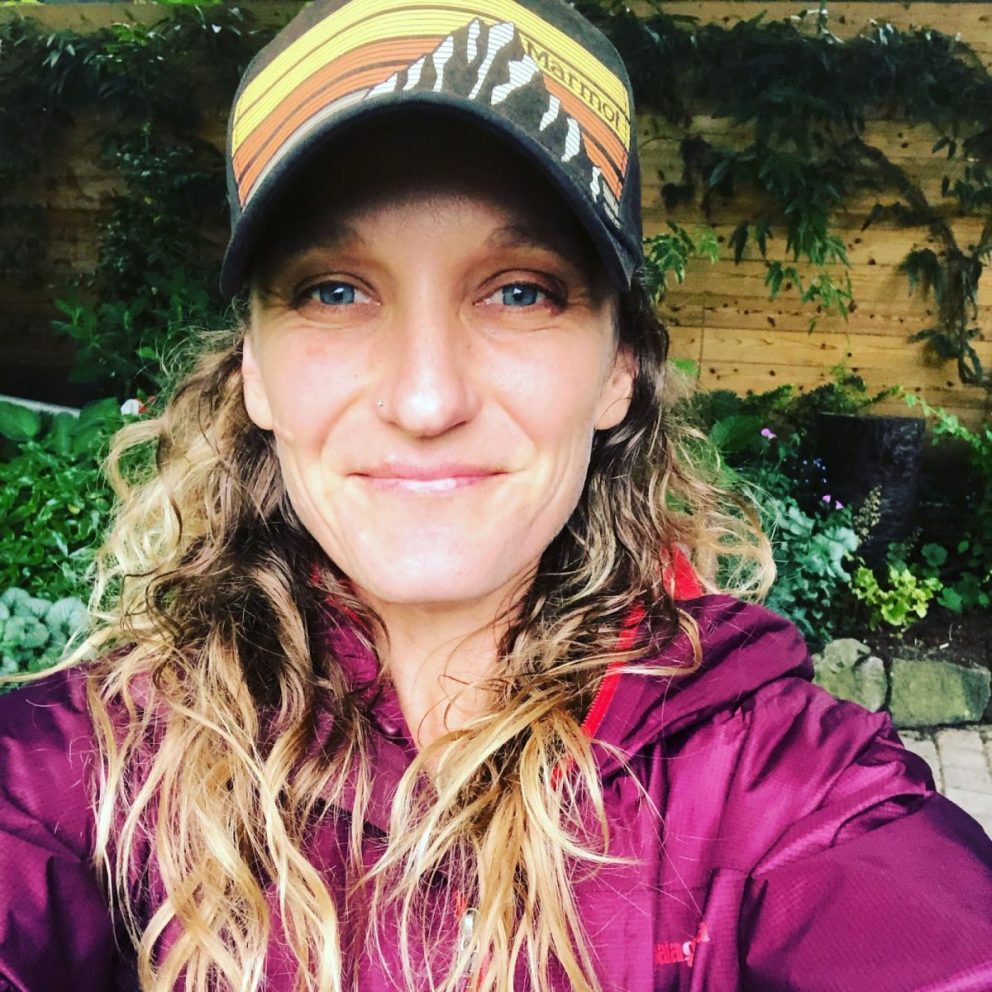 Ann Rad – Owner & Boss Lady
Ann has had her hands in the dirt from the very beginning. Raised on a rural farm she spent her formative years planting, climbing trees for her father's tree company, driving big trucks, and exploring the outdoors. Having worked in both arid and temperate climates under the mentor-ship of skilled designers, builders and landscapers, Ann has spent many years honing her craft.
Now a NE Portland resident, Ann lives on an urban wildland with her two kids, dogs, cats, chickens and loving partner. She can always be found with dirt stains on her clothes and Felco pruners on her belt. Ann has owned and operated various iterations of Pride + Joy Landscapes since 1998.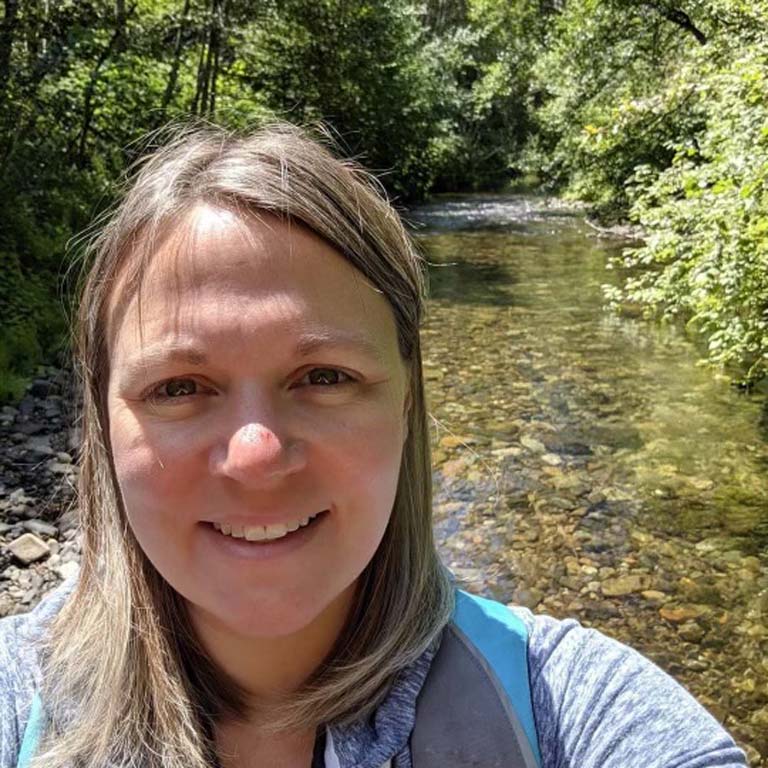 Ashley Bos – Office Diva
Ashley is the power behind keeping Pride + Joy running smoothly. Working tirelessly behind the scenes managing the finances, scheduling, invoicing and answering your emails. She loves some good tacos and ain't afraid to keep us in line!
Brendon "B" Wright – Maintenance Manager
Brendon was raised beneath the dancing boughs of Colorado Blue Spruces, Lodgepole Pines and the shimmering leaves of Quaking Aspens in the Rocky Mountains of Colorado. Brendon has been working with landscapes since they were 13 years old and finds immense joy in being planted, both hand and foot, in the soil. Brendon plucked themselves out of the silty Colorado soil, packed their car, and headed Northwest for wet loam in 2014.
Since then they have found their roots nourished by a community that has enriched their life and allowed them to share in the abundance offered by the Pacific Northwest. Brendon has been a member of the Pride + Joy team since 2019 and enthusiastically loves creating and maintaining beautiful gardens with our team.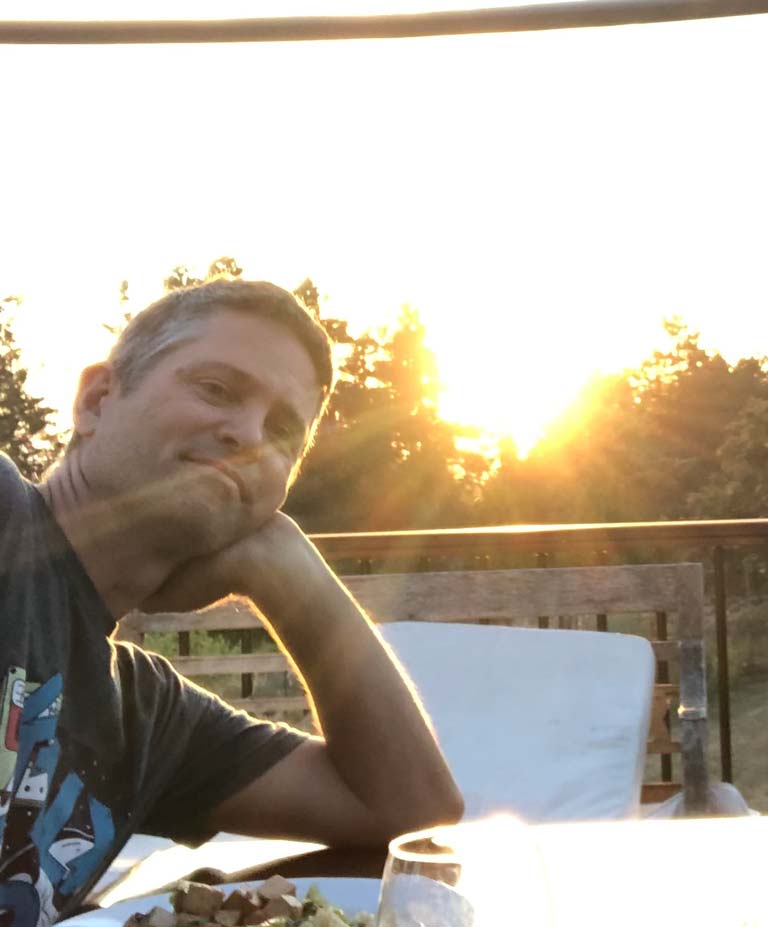 Chris
Chris spent most of his life toiling in sandwich factories and drinks dispensers until he wised up and decided he'd be happier playing Earth Mover all day.
Chris admires plants, animals and soil for their tenacity, ubiquity, charity and sense of humor. He likes feeding birds, sniffing flowers and hauling mulch around in wheelbarrows. He finds true joy and honor working with our lovely team.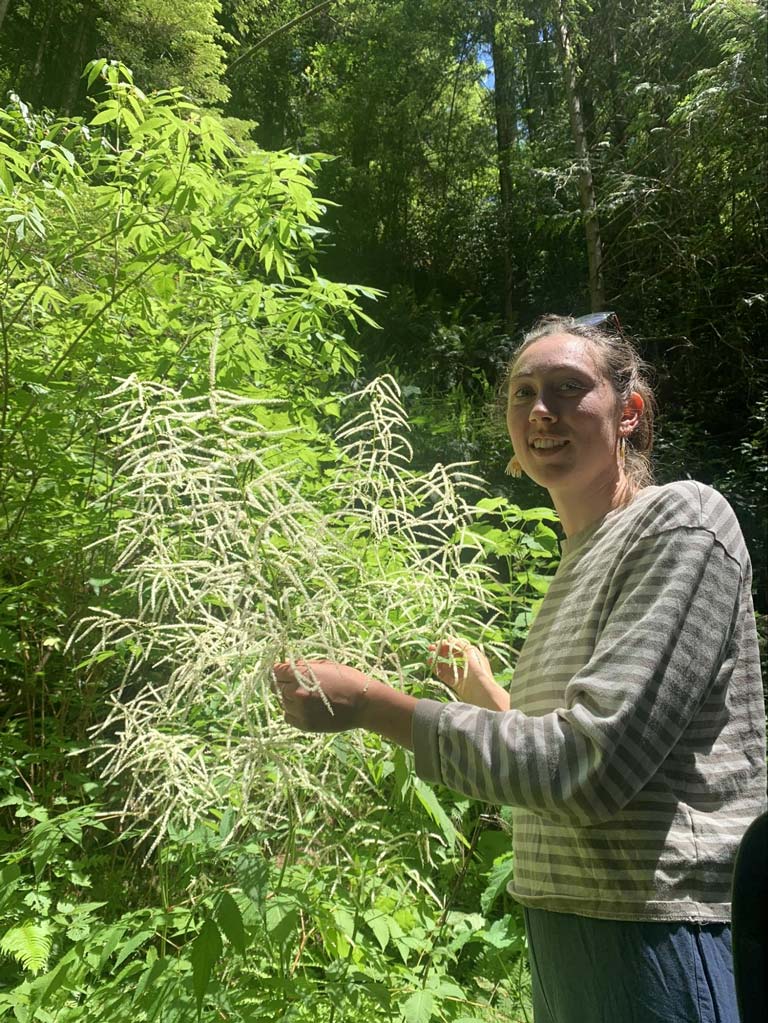 Cat
Cat joined the Pride and Joy team in 2020 and works both in the field and at the office doing installation and design. Cat is a Portland native and after getting her Bachelors at the University of Oregon she returned to Portland and was introduced to landscaping byway of habitat restoration. Cat is most interested in native plants and designing for wildlife and a changing climate. When Cat is not working, she's most likely outside biking, backpacking, fishing or enjoying a book with a hot beverage in hand.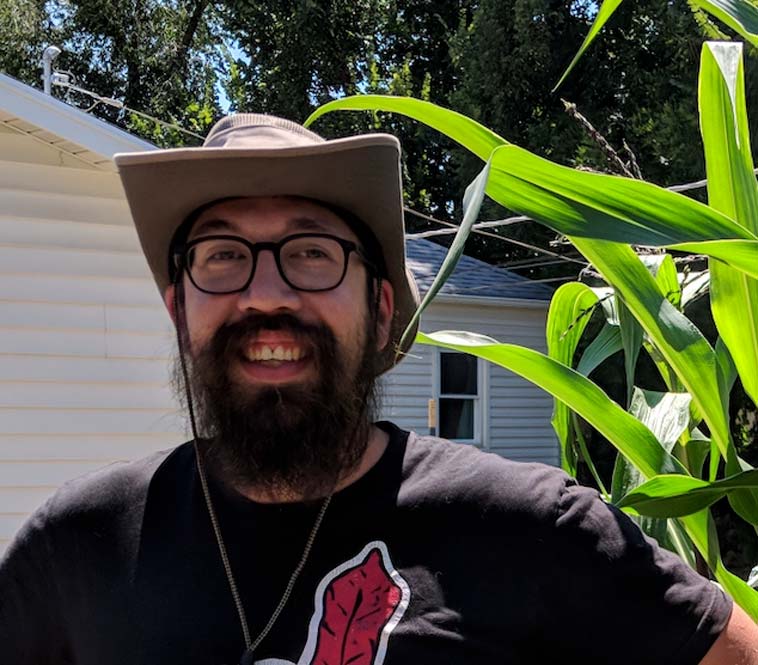 Crow
Crow earned his chops in the plant world working in nurseries, building lovely juniper raised beds, and making fruit trees happy. Crow is passionate about growing food, feeding people, and creating sustainable regenerative systems. Whether he is identifying weeds or jawing about dry farmed tomatoes he is a constant student of the plant world always looking to share knowledge and learn more. He has lived in Portland since 2011 and in his free time baking bread, cooking, and spending time with his partner.
Frequently Asked Questions
Where do you work?
We mostly keep our physical work in North and Northeast in order to keep a low carbon footprint. Consultations and Design work is offered throughout the Portland Metro area.
What is the difference between sketch and blueprint design?
A blueprint design is to-scale, computer-generated, and suitable for use by contractors for garden and hardscape installation. Most finalized blueprints include a Demo + Hardscape Plan and a Planting Plan. Visuals of plants and materials being proposed are available by request.
The Sketch Design Option is offered for smaller, one-off planting areas an informal sketch of your garden space that is not entirely to-scale. Plant ideas will be noted as well as basic hardscape layouts as needed. This option is best utilized for smaller sections of space- parking strips, garden corners, etc.
Do you use subcontractors?
The short answer is sometimes. If the scope of work falls outside of our licensing, time availability, or skill set, we will engage with knowledgeable subcontractors to help get your project completed with skill and efficiency.
Our favorite LOCAL retail vendors for plants and landscape materials are:
Dean Innovations
Garden Fever
Marbott's Nursery and Garden Center
Sparrowhark Natives
Bosky Dell Natives
Green Seed Nursery
Xera Nursery
Nature's Needs (Recology)
Average costs?
Designs range from $550-$6000 depending on the size and scope of the project.
Installations can range in scale from $500-$50,000 depending on the design, materials, and scope of the project.
Maintenance packages range from $265-$1500/visit depending on the frequency and scope of your garden.
Do you only use native plants?
We will often mix native-plant choices with other ornamental and edible plants that create habitat for wildlife and continuing color and textural interest in the landscape. We emphasize climate-adapted plants (i.e. drought or heat-tolerant) in our designs that at times are not native, but are best suited for their intended environment.
What are your SUSTAINABILITY practices?
As gardeners and land stewards, we believe it is our responsibility to continuously strive for low-impact and environmentally friendly landscape practices. At Pride + Joy, we primarily use hand tools and electric equipment daily. We regularly keep our projects local to NE Portland in order to maintain a low-carbon footprint. Our maintenance services follow habitat-centered practices (i.e. minimize winter cut-back of perennials, encourage leaf mulch, etc). In our designs we go the extra mile to reuse products as much as possible. One person's trash is another person's treasure!
What kind of donations/sponsorships does P+J support?
2022 Donation List:
Voz workers Cooperative
Black Resilience Fund
Feed 'em Freedom Foundation
Black Oregon Land Trust
NAYA
Pacific Horticulture
Hardy Plant Society
Mercy Corps
Red Cross
Partners in Health
Oregon Food Bank
Girls Build
Oregon Tradeswomen
Backyard Habitat Program
Tell me more about your consultation service…
Our 1-hour Jump-Start consultations offer advice, inspiration, and guidance to help plan your project in a quick and easy way.
How does it work? We will set up your meeting time, ask you some questions about your goals, preferences, and budget, and then we will create a custom layout for your space on the spot. You will get a sketch, materials suggestions, and some options for recommended plant species.
A consultation meetup is perfect for you if:
You want to save time and money by planning and planting your project yourself
You want to get professional input and feedback on your ideas
You want to avoid costly mistakes and surprises during installation
You want to have fun and enjoy the process of designing your space
Clients have used their one hour for:
Garden Coaching
Design initializing and/or off-the-cuff garden + hardscape ideas
Conceptual layout ideas
New project conversations
DIY information
Plant ideas
Problem-solving and solution-based planning
Referrals for work beyond P+J's scope
Ready to go? Send us an inquiry!
Do you install irrigation systems?
We are not a certified irrigation and backflow provider. We can however offer simple drip systems with timers run off of your hose bib (assuming you have sufficient water pressure).